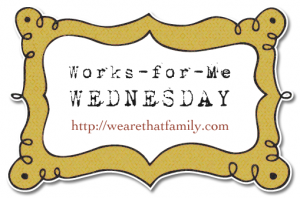 If you are here via ICLW, welcome. If you are here via WFMW, welcome. If you don't speak in abbreviations, welcome!
Today's tip is sooooo easy, I wish I could say I thought of it myself. But I didn't. I totally hijacked this idea from my friend. MaM went to her son's party and came home with one and it was the best loved party favor ever.
So of course we had to have them for Jr's second birthday.
Are you ready?
Mylar Helium Balloons!
(Wait! You think: isn't that kind of spendy??)
Here's the secret: they are from……..THE DOLLAR STORE.
Yes, the Dollar Store (assorted chains of dollar stores, I don't even remember which we one used) sells character, theme and assorted balloons for $1.
Party On!
(NOTE: Get a balloon anchor while you are there, or bring some washers, or at least remember they are in your car when you open the door. Otherwise, Grandma may have to go buy a replacement balloon or two while you get the party started. Good thing they are only $1…..)