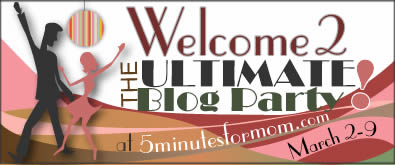 So you know how hard it is to get together with just one or two girlfriends for coffee, right?? Do we bring the kids or not? If no, then there's a sitter to get or a hubby to coordinate with. If yes, then it's coordinating your kiddo's "good time" with your friend's kiddo's "good time". Which is about as likely as…coordinating anything with two toddlers–not gonna happen.
SO….how do you get over 500 bloggers to get together at once????? You go here!!! On your time. Be it 10 am, 10pm….whenever.
If you found me this way, welcome!! I'm mom to the most amazing girl who's 19 months old, and ours through the miracle of domestic open adoption. I'm back to working close to full-time (I'm sort of in denial) and enjoy volunteering for any good cause (especially if there's a silent auction to run). I hope this blog entertains, keeps friends and family somewhat updated and serves as a testimonial to the miracle of adoption. It also serves as a scrapbook of my life currently, because, let's face it, if I actually did that, I wouldn't have time to blog!