In some ways, I don't remember life before my minivan. It's traveled almost 200,000 miles with me – I've spent the equivalent of weeks waiting in car pickup lines, carried two tons worth of stuff to Goodwill, and moved an arsenal of Girl Scout cookies. It's great knowing I can always carry a week's worth of groceries and 4-6 people should the occasion arise, but let's be honest, the occasion doesn't arise very often.
So after 10 years and a whole lot of driving, I'm thinking it's time for something different. Enter cars.com.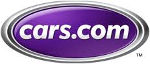 It's never fun to car shop with kids, so we've learned to do as much research as possible online.  Enter the cars.com review tool– just pick a make, model and year, and you can read the good, the bad and the ugly.
I'm still looking for cargo space, and need the back seat to fit at least two near-teenagers (eek!). The doors don't need to slide, and I don't care if there are anchors for the carseats. Cupholders and power sources are crucial, a DVD player not so much.
Have you moved on from your minivan? What did you get next?
*Disclosure: Thanks to cars.com for sponsoring today's discussion.